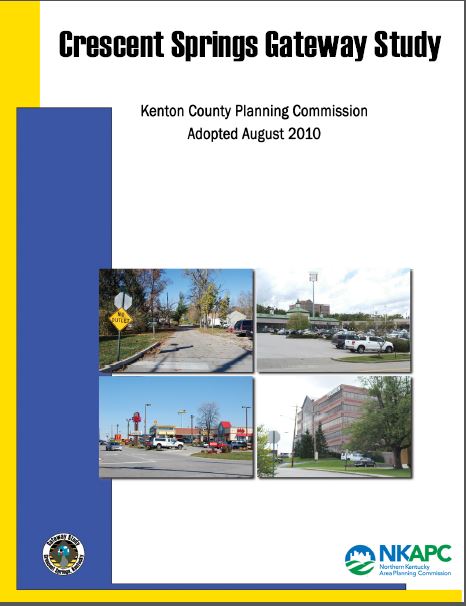 Crescent Springs City Council is working with PDS staff to implement a key section of the 2010 Crescent Springs Gateway Study. The plan, which contains numerous recommendations on topics like streetscape to transportation, is currently being used by the city to focus on instituting zoning changes to promote economic development.
Implementation discussions began in the summer of 2017 to review the plan's recommended land uses and to work towards implementing zoning revisions. Those conversations highlighted the need for more flexibility in the area through zoning for a mix of uses. City officials felt existing regulations in the area were too numerous and restrictive, leading to underutilized land. The proposed amendments will help to address issues in the area that were first formally noted in the 2010 plan.
"Working with city officials to implement some of the plan's land use recommendations has been a great experience," said Alex Koppelman, PDS Associate Planner. "The Mixed Commercial Zone encourages development and redevelopment with flexible regulations, allowing for a mix of commercial retail, service, and office uses while also accommodating existing residential uses."
The city's amendments consolidates zoning into two zones: Mixed Commercial (MC) and Industrial Park (IP). The MC zone includes most of the uses already permitted in the current zones, lower parking minimums, and establish consistent setback and landscaping requirements. It also allows existing single-family homes to remain in the area without facing issues of non-conformity. Previously, there were eight zoning districts within the approximate 44-acre area, including residential to highway commercial to office.
"It's always exciting to see our longer-term planning efforts coming to fruition," said James Fausz, AICP, Long Range Planning Manager for PDS. "I worked on this project during the initial study and remember the area was a challenge with lots of uses in several zones. These draft changes have the potential to provide some much-needed flexibility to allow for a more straightforward approach."
The amendments were provided with favorable recommendations by the Kenton County Planning Commission after two public hearings. The city has adopted the text amendment and the corresponding map amendment to establish the MC Zone.